What Began With Iron Has Expanded
What began with iron has expanded to include steel, aluminum, vinyl and nowâ stainless steel cable. Mitchell Iron Works turns raw materials into the custom fabrications you need. From design to installation, you benefit from experience as well as up-to-date knowledge of the materials that are best suited to your needs.
If there's a new material that will provide greater strength or durability for your project, for example, you'll be presented with all of your options, and a knowledgeable recommendation.
You'll also benefit from Mitchell Iron Works' hard-headed approach to the cost of materials. The company solicits as many as six estimates on steel framing, for example, before purchasing it. You're always assured of getting a bid based on the best available materials price.
Capability That Begins Before The Bid
Capability that begins before the bid and ends with installation. The ability to interpret complex architectural designs and develop accurate engineering specifications enables Mitchell iron works to provide realistic cost estimates.
In the shop, skilled craftsman shear, saw, burn, punch, weld, bend, thread, mill, river, straighten, machine, drill and/or tap bars, plates, shapes, sheets, shafting or tubing into the exact form you need.
The quality of your finished work is guaranteed by the pride of craftmanship invested in each phase, from on-site measuring to installation.
The Right Equipment
The right equipment to get the job done right and on time. Mitchell welding & iron works has in-house equipment to fabricate your job efficiently and on time.
Some of our equipment includes:
100-ton Edward's hydraulic iron worke
60-ton Chicago brake press
Two Scotchman cold saws, – one 14″ & one 11″
11â welding machines for MiG, TIG and stick
Plasma torch with 3/4″ cutting capacity
25-ton hydraulic shear
Mechanical punch machines
SOME OF OUR FAVORITE PROJECTS
Centennial Park Bandstand
The City of Wildwood Crest created a unique stage area for summer
concerts on the beach! Get there early and bring a beach chair!
Wave Swinger - Morey's Piers
Ornamental Iron railings designed and fabricated complete
the Wave Swinger ride on Morey's Piers in Wildwood, NJ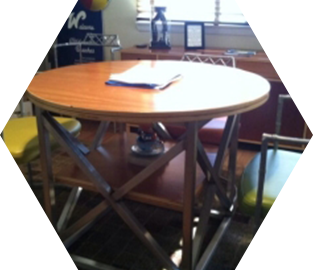 Custom Table
We can even make furniture bases. This stainless steel box
was designed and welded for one of our favorite clients office.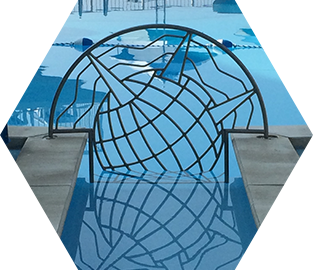 Pan Am Resort
Working with a designer is always a challenge. This custom
stainless steel pool railing keeps the kids out of the deep end.
Glass Pool Railing
Stainless steel and Mahogany Cap Rail complete this glass
pool railing on a home in Longport, NJ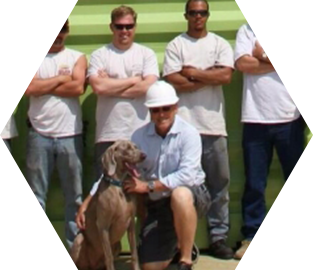 ArtBox - Morey's Piers
A pier full of containers converted into an artist work booths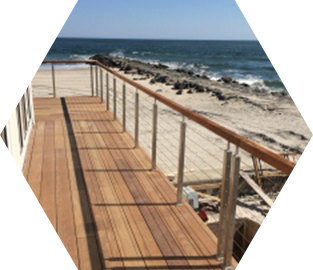 Vague Residence
250' of stainless steel cable railing gives this beautiful
home 360º views of the Atlantic ocean.