Services
Mitchell Iron Works has held an established presence in the metal fabrication industry in New Jersey since 1951. Our exemplary workmanship and innovative approach have allowed us to offer cutting-edge metal fabrication, welding, and installation services that evolve with the advent of new technology. We are committed to progressing towards greater solutions that enable us to efficiently meet the needs of our clients. By using quality products and materials and implementing modern fabrication and welding techniques, we are able to ensure the best possible results on every project.
At Mitchell Iron Works, not only do we excel in the finished product, we also take pride in the process; instilling care, diligence, and attention to detail at every stage of the project. Our personalized approach is focused on bringing your vision to life with accuracy, skill, and pride in craftsmanship. Over the years, our services have expanded to include steel, vinyl, aluminum, and now stainless steel cable. Our budget conscious approach to sourcing materials means you will always get the most competitive prices for your budget.
Metal Fabrication, Installation, & Welding
We specialize in a wide variety of metal fabrication products including custom metal stair work such as floating stairs and stringer stairs. We also offer stainless steel cable systems, glass rails, and more. You can rest easy knowing we obtain at least six different estimates to get the lowest price for the best materials.
Contact Mitchell Iron Works for more information about custom metal work services in New Jersey and the nearby areas by calling us at (609) 465-7510. Please browse our website to learn more about our company and services.
SOME OF OUR FAVORITE PROJECTS
Centennial Park Bandstand
The City of Wildwood Crest created a unique stage area for summer
concerts on the beach! Get there early and bring a beach chair!
Wave Swinger - Morey's Piers
Ornamental Iron railings designed and fabricated complete
the Wave Swinger ride on Morey's Piers in Wildwood, NJ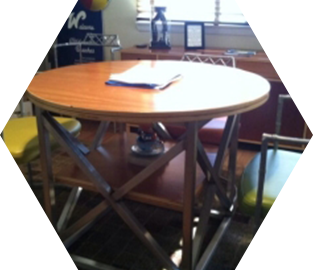 Custom Table
We can even make furniture bases. This stainless steel box
was designed and welded for one of our favorite clients office.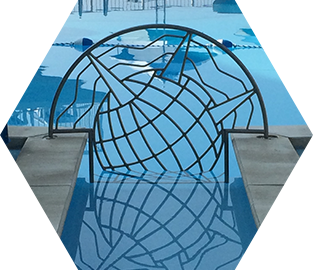 Pan Am Resort
Working with a designer is always a challenge. This custom
stainless steel pool railing keeps the kids out of the deep end.
Glass Pool Railing
Stainless steel and Mahogany Cap Rail complete this glass
pool railing on a home in Longport, NJ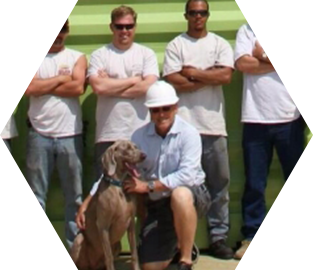 ArtBox - Morey's Piers
A pier full of containers converted into an artist work booths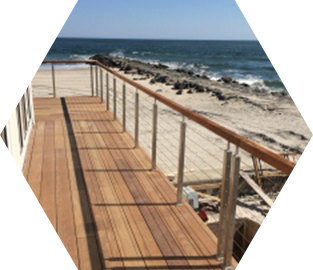 Vague Residence
250' of stainless steel cable railing gives this beautiful
home 360º views of the Atlantic ocean.